Monday, January 27, 2014
American Stories Told By Foreign Directors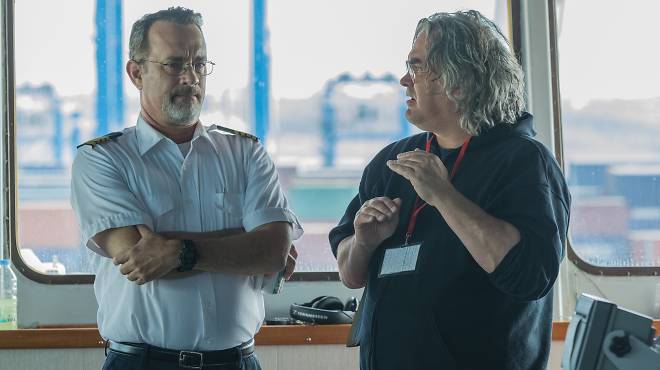 By Mark Pinkert
Contributor
…
There was an interesting phenomenon in film this year that deserves a second look: many of the most recognizably "American" films of 2013 were directed by foreigners and, of those films, two feature almost entirely foreign casts.
First, to be clear, when I say "American" films, I'm not referring to stories that simply take place here; rather, I'm looking at films that are germane to the American narrative, to our history and cultural zeitgeist–really, Americana as opposed to just American. Films like The Great Gatsby, 12 Years a Slave, Dallas Buyers Club and Captain Phillips–which bring to life classic American literature, histories, and recent events–are the best examples. (Gravity is a tough sell for this list, but does fit insofar as it deals with the space program, a prominent feature of 20th century, Cold War America.) The second criterion, then, is to have a foreign director, and all of the aforementioned films do: Baz Luhrmann (The Great Gatsbty) is Australian, Steve McQueen (12 Years a Slave) and Paul Greengrass (Captain Phillips) are English, Jean–Marc Vallée (Dallas Buyers Club) is French-Canadian, and Alfonso Cuarón (Gravity) is Mexican.
Foreign directors are not new to Hollywood, of course, and have influenced American film profoundly throughout the 20th century and since the early days of Hollywood. Most of the original movie studio heads in the 1910s and 1920s were Jewish immigrants and then, in the 1930s and 1940s, an influx of European directors–Fritz Lang, Otto Preminger, Alfred Hitchcock, and Robert Rossellini, to name a few–changed American cinema forever. From their Italian Neorealism, German Expressionism, and post-war fatalism, we arrived at film noir. And though we ultimately experience noir as an American art–a dark journey of the hard-boiled American detective–it is more an amalgamation of international paranoia and perspectives. The same goes for the modern horror film, which is not an American creation entirely, but a genre that owes many of its conventions to the German expressions and chiaroscuro, first seen in films like The Cabinet of Dr. Caligari (1920), Nosferatu (1922), and Metropolis (1927).
But once something has been Americanized, it's hard for us to look back. We usually lay claim to that thing and, in a slow boil of ethnocentrism, cook away its foreign ancestry. This might be the case for the American film canon this year if both current and future viewers quickly disregard its notable foreign influence.
But foreign perspective–I think–is what made this year's American films so special, and it did so in a much different way than it did in early cinema. In those times, foreigners imbued film heavily with European aestheticism and attitudes. Today, the foreign influence is a much more clear lens, giving us a wider scope with which to view our own history and culture. Captain Phillips is a great example. Here is a story ripe for one-dimensional, hyper-American action–another iteration of Air Force One (1997) or the Tom Clancy series. Instead, Paul Greengrass distinguishes his film by way of journalistic candor. Greengrass began his career as a journalist and documentarian, and further developed this lens with Green Zone (2010) and United 93 (2006) (two other, important American stories, by the way). With Captain Phillips he perfects this style and shoots his best movie yet: not only does Captain Phillips have a forceful pace, seamless dialogue, and intimate cinematography, but it provides an objective glimpse into the lives of its antagonists. While in the midst of admiring American resilience and tactical strength, we also regard the destitution and inexorable hardships of the Somali pirates. Such journalistic impartiality is rare in successful action films. To this end, Greengrass' foreign roots are useful: he circumvents the fervent nationalism that often waters down this film genre. Ultimately, he gives us a complete, but complex picture, and allows us to consider the issues with our own moral compasses.
How much of this is owed to Greengrass' English, as opposed to his journalist, heritage is difficult to say, but worth noting. The same is true of Jean-Marc Vallée, whose French-Canadian nationality and predominantly French oeuvre were not much discussed this year, except as informative asides. Yet his film, Dallas Buyers Club, takes place in 1980s Texas and so, in retrospect, he seems to be an odd choice. (It should be noted here that the film had been stalled in pre-production for several years and after failing to sign on American actor/director, Dennis Hopper, producers courted two foreign directors, Marc Foster and Craig Gillespie, but also to no avail.) However, Dallas Buyers Club asks broader questions about American individualism, community, and also healthcare, so Vallée's French-Canadian perspective serves him well. Both France and Canada have universal health coverage for their citizens, which speaks not only to our differences in politics, but also in social attitudes. So who better to point out American flaws in these arenas? There certainly is no love lost in this film for the American government, specifically the FDA, which acts as a counterpoint to the rugged individualism, and then the growing communal identity, of Ron Woodroof (Matthew McCanaughey). Bureaucracy–stalling, distant, impersonal–is the antagonist third only to social ignorance and the A.I.D.S. virus itself. And while Americans aren't entirely blind to these limits of government and bureaucracy, we should still welcome reminders from our foreign friends.
Likewise, who would be better to re-animate F. Scott Fitzgerald's The Great Gatsby, the most famous literary record of 1920s American greed and glamor, than a son-of-a-farmer from a small town in New South Wales, Australia? Before directing this  remake of an American classic, director Baz Luhrmann did have experience with operatic showiness, musicals, and burlesque–dating back to his Moulin Rouge! (2001), Strictly Business (1992), and theater education. But perhaps his eye for America glamor goes further back to his small-town childhood roots. In the same way that Jay Gatsby (Leonardo DiCaprio) longs for the green light across the bay–a symbol of hope, the American dream, love, a better life, etc.–maybe Luhrmann longed for the distant glamors Hollywood and American theater. If those were, in fact, his sentiments as a young Australian child, it would make for a perfect analogy. In a way, Gatsby is a foreigner to his present world–not in nationality, but in upbringing and class heritage. His struggle to reconcile his roots with his American dreams is similar to the struggle of many immigrants trying to fit into a new world. A story to be retold by a foreigner.
One director whose nationality has been discussed is Steve McQueen, the British director responsible for 12 Years a Slave. This is film is arguably our most important film on the history of slavery in America and, accordingly, many critics have asked about his being British. "I am British. My parents are from Grenada. My mother was born in Trinidad. Grenada is where Malcolm X's mother comes from. Stokely Carmichael is Trinidadian. We could go on and on. It's about that diaspora," responded McQueen, during a recent interview with Nelson George of the New York Times. That McQueen and much of his cast (including Michael Fassbender, Chiwetel Ejiofor, Benedict Cumberbatch, Lupita Nyong'o) are not American-born should serve as a reminder that the narrative is not entirely American in the first place. Slavery was and still is a worldwide issue, and even though we abolished over a century ago, we are not absolved from its history nor from the need to pay attention to human trafficking around the world today. Insofar as the film is a biopic and chronicling of the difficult journey of Solomon Northup (Chiwetel Ejiofor), it is easy to sense a historical and regional containment. But any reminder–even the nationality of cast and crew–of the film's broader social implications should be highlighted.
After the Oscars this year, we will move onto the great prospects of 2014 cinema and, in doing so, tuck this year's films safely away in our movie annals. Then down the road, when we do pull these films off the shelves (or from our Netflix queue), we'll see them retrospectively as American classics–perhaps in the same way we now view Hitchock's ouevre and the film noir catalog. But it's important to remember that American art always draws on the immigrant experience and worldwide diaspora. Foreign narratives becomes American, but we ought to be better sharers.
photo credit; Hopper Stone
Tags: 12 Years a Slave, Alfonso Cuaron, Alfred Hitchcock, Baz Luhrmann, Captain Phillips, Dallas Buyers Club, Film history, Film Noir, Fritz Lang, German Expressionism, Gravity, Jean-Marc Vallee, Oscars, Otto Preminger, Paul Greengrass, post-war fatalism, Steve McQueen, The Great Gatsby