Monday, October 1, 2012
Are TV's American Remakes Of Foreign Series Getting Excessive?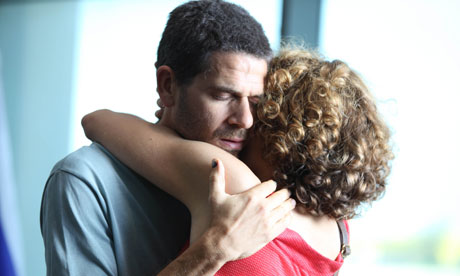 By Rachel Bennett
Television Editor & Columnist
***
Sunday night was the season two premiere of Showtime's Homeland, and among my 12 reasons why you should tune in to the political drama, one is because it's a foreign remake that works.
In case you missed it, Homeland is an American adaptation of the 2010 Israeli series Hatufim (Prisoners of War). "Both shows are very similar in the fact that they raise very relevant and timely questions in their societies," says Homeland executive producer Gideon Raff, who also created Prisoners of War. Prisoners of War is a drama that follows soldiers as they readjust to their society in addition to the people who question the truth of their service.
However, Homeland is not an exact copy of Prisoners of War. The Showtime series features the overhanging threat of terrorism after 9/11, personified in character Sgt. Nicholas Brody (Damian Lewis). This change in crafting Homeland has made the drama relevant to the American audience, making for a better and more significant series.
There have been numerous remakes of foreign series throughout the history of U.S. television. The results are usually either great or terrible, without much room in between. Homeland has been fantastic so far, but such series as AMC's canceled The Killing and MTV's canceled Skins left much to be desired. The Killing is based on the Danish series Forbrydelsen, whereas Skins is a remake of the British programSkins.
Most U.S. remakes are of popular British programs. Recent examples include Showtime's Shameless, NBC's nixed Prime Suspect and ABC's failed Life on Mars. Although many don't find their popularity jump overseas, there have been some success stories: CBS's All in the Family was inspired by the series Till Death Us Do Part, ABC's Three's Company is an adaptation of the show Man About The House, and NBC's The Office is a remake of the Ricky Gervais-headlined comedy of the same name.
With the hit-or-miss quality of American remakes, are they really wanted by the U.S. audience? And are they really necessary?
Following the growing popularity of Netflix Instant*, Amazon Instant Video and other subscription video-on-demand providers, more foreign shows are easily being made available to U.S. viewers. Such channels as PBS and BBC America are also allowing American TV-watchers to tune in to British programming. I know several people who are fans of such BBC series as Sherlock and Doctor Who, including myself, and it would be strange to see such popular series remade with an American cast.
In fact, some people have taken issue with CBS's new drama Elementary, which is based on the tales of legendary literary detective Sherlock Holmes. Both Elementary and Sherlock are contemporary takes on the character, and they have premiered within two years of each other — comparisons are inevitable, and maybe viewers have a point. Imitation is the sincerest form of flattery, but when is enough enough?
Whatever the answer, I don't think remakes should stop being made. When they can be tweaked to become relevant to an American audience, as Homeland and All in the Family tackle U.S. social issues ranging from racism to politics, they can become some of the best series ever created.
But TV viewers should be given some credit: We don't want to see a carbon copy of another show. That rarely works. Instead, we want something that is memorable to us because we see media through a different cultural lens than other countries, as all countries do. The foreign series that do manage to capture our attention do so because they expertly deal with universal themes, and not many programs can do this.
In short, when our DVRS or TiVos are cluttered with other series, a remake better be different and good enough from its source material to warrant our time and space. Otherwise, we can most likely catch the original online whenever we want.
*It's interesting to note that although Netflix is a reason U.S. TV-watchers are becoming exposed to foreign series, one of its most anticipated new original series is House of Cards, a remake of the 1990 British miniseries. What makes this even more compelling is that the series is produced and directed by David Fincher, the director of the American adaptation of the Swedish film The Girl with the Dragon Tattoo.
Tags: ABC, All in the Family, Amazon, AMC, BBC, BBC America, CBS, Damian Lewis, David Fincher, Doctor Who, Elementary, Forbrydelsen, Gideon Raff, Hatufim, Homeland, House of Cards, Life on Mars, Man About The House, MTV, NBC, Netflix, PBS, Prime Suspect, Prisoners of War, Ricky Gervais, Shameless, Sherlock, Showtime, Skins, The Girl with the Dragon Tattoo, The Killing, The Office, Three's Company, Till Death Us Do Part