Monday, December 3, 2012
Could TV Spoilers Improve The Viewing Experience For A Social Media-Driven Audience?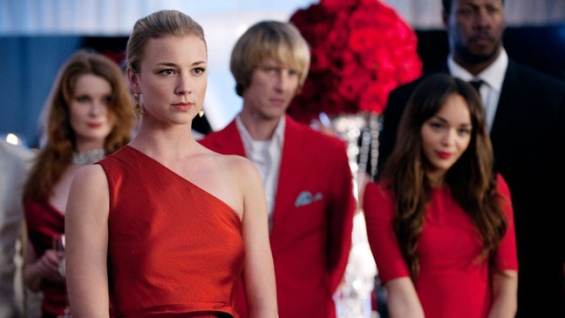 By Rachel Bennett
Television Editor & Columnist
***
To spoil or not to spoil, that is the question.
When it comes to TV, I'm an avid spoiler seeker. Aside from a few shows that are known for twists (such as AMC's Breaking Bad, Showtime's Homeland and ABC's Revenge), I'm open to any and all advanced knowledge of jaw-dropping moments. I even read spoilers for shows I don't watch — that's how twisted my love affair is.
It turns out I'm not alone: A 2011 study by the University of California, San Diego, reveals that spoilers can actually make a viewing or reading experience more satisfying.
Luckily for me and others, there's no shortage of places to find TV spoilers. If you want to find them before a program airs live, all you have to do is check out such outlets as The Hollywood Reporter. Nevertheless, before, during and after a show broadcasts, there's one site you must avoid if you're a spoilerphobe: Twitter.
Social media have spawned social television, which is the occurrence of people discussing TV online as a way of recreating "the early days of television, when families gathered in their homes to share the experience of watching television together," according to a study published by the University of Pennsylvania.  On average, an estimated 10 million public online comments regarding TV are posted a day.
This can be much to the chagrin of West Coast TV viewers and those who record series or plan to watch them later online. In September, one cable provider divulged to Gizmodo's Sam Biddle that there will be a projected 25 billion on-demand viewings for 2012 — a 5 billion increase from 2011.
Such Twitter spoilers can frustrate viewers, as Questlove of The Roots, the band on NBC's Late Night With Jimmy Fallon, showed when he tweeted last year, "Yall Spoilers think yall cute w/ the #BreakingBad ish but now I see yall makin alt accounts begging me to unblock yall. Never. Spoil? BLOCK!"
Despite my usual love for spoilers, I can understand Questlove's anger. I like to be in control of what I know and don't know, just as I like to handle the remote control when I'm tuning into a series. When someone else decides this for me, disregarding my preferences, that's when I get prickly (I know I'm not the only one to exasperatedly say, "Why didn't they put 'spoiler alert' before that?!").
TIME's James Poniewozik explains it best: "Hearing a spoiler takes away the one-time-only discovery of a twist or an ending, and when that happens to you without your consent, it feels like a violation."
Yet, spoilers actually make me want to watch a show more than ever. If it's a shocking twist, it's almost too impossible to imagine — I have to see it to believe it.
When the London Olympics took place this summer, fans became outraged that NBC delayed coverage because Twitter and other online forums were spoiling the results. However, the London Games attracted more than 219.4 million Americans, making it the most-watched event in U.S. TV history.
As Olympic viewer Rachel Velonza told The New York Times regarding the 2010 Winter Olympics, "Even though knowing ahead spoils the program, you just can't help but see for yourself what all these people are talking about."
For those of us who do like to be spoiled, the main question is why? And whether or not you like spoilers, does knowing a plot point beforehand ruin finally witnessing it?
I like reading spoilers because, I reason, I'll eventually find out what it is. So why wait? Plus, it's fun. As Dan Kaiser, the creator of the sites Movie Spoiler and Movie Pooper, says, "Who doesn't want to know something that most others don't yet?"
Additionally, as someone who thinks, writes and discusses TV frequently, finding out a plot twist can put my mind at a sort of ease. I'll still think about a series, but I won't constantly ponder, "What's going to happen?" Instead, I can posit, "Why did this happen?"
Poniewozik adds, "Fixating on 'twists' and 'reveals' – an excessive obsession and crutch of TV and movies today – treats stories like Rubik's Cubes: solve them, and you're done." Learning a reveal early, however, can help viewers move past their shock value and begin critically evaluating them.
As for if spoilers ruin TV series for me, they don't. As I said earlier, they just make me even more excited to watch a program.
The great director Alfred Hitchock's suspense theory sums up the feeling: It's scarier to know something terrible will occur than to be completely oblivious of it. Revenge, with its season-opening deaths that later flash back to how they happened, perfectly capitalizes on this theory. We want to see what leads up to a reveal and how our characters will recover in addition to it.
Aside from this, if a series is good enough, you'll revere it for more than just a particular fascinating twist. Of course I'll never forget Gus Fring (Giancarlo Esposito) walking out of a hospital room with half of his face missing on Breaking Bad, but I'll just as easily remember Jesse (Aaron Paul) talking about consequence at a Narcotics Anonymous meeting or Walt (Bryan Cranston) saying, "I am the one who knocks."
Oops, should I have said, "Spoiler alert"?
Yes, spoilers can be aggravating, but if you accept them, you may realize how much they are increasingly becoming a part of TV — not just a byproduct of it.
Do you enjoy spoilers? Do you avoid them like the plague? Let us know!
Tags: 2010 Winter Olympics, ABC, Alfred Hitchock, AMC, Breaking Bad, Bryan Cranston, Dan Kaiser, Giancarlo Esposito, Homeland, James Poniewozik, Late Night with Jimmy Fallon, London Olympics, NBC, Questlove, Revenge, Sam Biddle, San Diego, Showtime, The Roots, University of California, University of Pennsylvania