Tuesday, December 31, 2013
David O. Russell's Hot Streak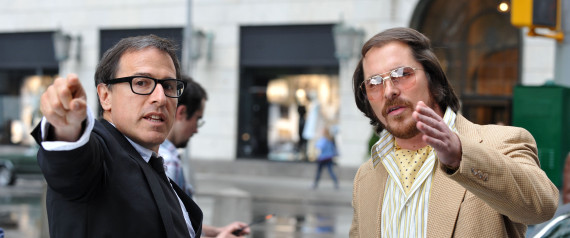 By Mark Pinkert
Contributor
…
If David O. Russell gets nominated for Best Director this year, he will have accomplished something that Martin Scorsese, Woody Allen, Alfred Hitchcock, Francis Ford Coppola and many other great directors have not–that is, to earn three Best Director nominations in the span of only four years. In fact, only eleven other directors have been on comparable hot streaks in Academy Award history, and only one of those streaks (by Clint Eastwood) has occurred after 1960. (See below for reference.)
This is not a comparison of overall quality or career prolificity (not many can bout with Scorsese, Allen, Hitchcock and Coppola in those categories), but merely a tribute to Russell's ultra-concentrated efforts in the past four years and a recognition of the difficulty of this feat. It's also a relevant because it might shed some light on previous Oscar trends and on what we can expect at the 86th Oscars.
Of these eleven directors who have been nominated three times in four years, only two won Best Director for the first film in the streak. Of the other nine who did not, seven then went on to win Best Director for the second or third film in the streak. As for Best Picture, none of the eleven won for the first film in their streaks, but, again, seven went on to win it in their second or third. David O. Russell is currently in both of the aforementioned categories: he has been nominated for Best Director twice in the past three years (for The Fighter (2010) and Silver Linings Playbook (2012)) but has not yet won the category, nor Best Picture.
What does this mean for Oscar voters? The first issue is of course quality: it is possible that an auteur director will refine his or her vision during the course of such a streak, and thus create more complete, more poignant films by the end of it. It's the idea that with a few works under their belts, directors then have the tools to put together their best shots at a Best Picture/Best Director. But this hasn't been the case in every instance, and in fact many directors seemed to have peaked on their second film of three film streaks. Lewis Milestone's All Quiet on the Western Front (1930) was the second of three films in this type of run, yet has been the more enduring icon than has his streak's third film, The Front Page (1931). The same goes for John Ford's The Grapes of Wrath (1940) compared to his subsequent film, How Green Was My Valley (1941) and arguably for Clint Eastwood's Million Dollar Baby (2004) compared to his later Letters from Iwo Jima (2006).
Is American Hustle (2013)–Russell's would-be third film in a three for four streak–markedly better than his previous two? Probably not, even though it's the wackiest, freest, and most inventive of the three. But The Fighter and Silver Linings were tighter–beat for beat–and more accessible for pop culture audiences. My guess is those will endure the test of time longer than will Hustle.

As far as Academy voting goes, though, Russell has history on his side. It seems from previous occurrences that Academy voters develop a taste for really hot directors and often award them in the midst of their streaks. Further, film critics buzz about hot directors even more than they would have if those directors were fresh on the scene. Russell has re-emerged as a household name after a six-year hiatus in the 2000s, and seems to have critics back on his side. And while I've heard mixed reviews from friends and family about American Hustle, it's gotten strong reviews in film circles. Further, critics have continued to develop a taste for Russell's directorial style, which has been all about unleashing actors to the fullest and allowing them to explore the weird extremes of performance. Bradley Cooper, Jennifer Lawrence, Christian Bale, and Amy Adams have all come away from these latest three films with dynamic performances that were career-enhancing, if not career re-defining. And Robert De Niro transformed into the vulnerable, quirky Pat Sr. from Silver Linings–a brilliant but anomalous performance. (De Niro does come back briefly, in Hustle, to remind us that he can still do the scowling mafioso.) But Russell is, if anything, great at eliciting energetic performances.
I think Russell's hot streak and his daring directorial style will help him in this unbelievably competitive Oscar race. But the field still looks daunting with Alfonso Cuarón, Martin Scorsese, Paul Greengrass, Steve McQueen, Joel and Ethan Coen, Alexander Payne, Spike Jonze, Woody Allen, and Lee Daniels all chomping at the bit with great films.
Three Best Director Nominations in Four Years
DIR – Won Academy Award for Best Director
PIC – Won Academy Award for Best Picture   
*Lewis Milestone: Two Arabian Nights (1927) DIR, All Quiet on the Western Front (1930) DIR/PIC and The Front Page (1931)
**Frank Capra: Lady for a Day (1933), It Happened One Night (1934) DIR/PIC, Mr. Deeds Goes to Town (1936) DIR, You Can't Take It with You (1938) DIR/PIC, Mr. Smith Goes to Washington (1939)
Michael Curtiz: Captain Blood (1935), Angels with Dirty Faces (1938), and Four Daughters (1938)
John Ford: Stagecoach (1939), The Grapes of Wrath (1940) DIR and How Green Was My Valley (1941) DIR/PIC
**William Wyler: Wuthering Heights (1939), The Letter (1940), The Little Foxes (1941) and Mrs. Miniver (1942) DIR/PIC
Sam Wood: Goodbye, Mr. Chips (1939), Kitty Foyle (1940) and Kings Row (1942)
Clarence Brown: The Human Comedy (1943), National Velvet (1944) and The Yearling (1946)
**John Huston: The Treasure of the Sierra Madre (1948) DIR, The Asphalt Jungle (1950), The African Queen (1951) and Moulin Rouge (1952)
Joseph L. Mankiewicz: A Letter to Three Wives (1949) DIR, All about Eve (1950) DIR/PIC and 5 Fingers (1952)
Billy Wilder: Witness for the Prosecution (1957), Some Like It Hot (1958), The Apartment (1960) DIR/PIC
Clint Eastwood: Mystic River (2003), Million Dollar Baby (2004) DIR/PIC and Letters from Iwo Jima (2006)
*Although the films in Lewis Milestone's streak span five years, his Best Director nominations only span four. In the first five Academy Awards, films were eligible for two calendar years (1927/28, 1928/29, etc.). Eligibility was not limited to one calendar year until the 6th Academy Awards in 1934.
**Overlapping or continuous streak(s)
photo credit; Getty Images
Tags: 5 fingers, 86th academy awards, A Letter to Three Wives, Alexander Payne, Alfonso Cuaron, Alfred Hitchcock, All About Eve, American Hustle, Amy Adams, Best Director, Best Picture, Billy Wilder, Bradley Cooper, Christian Bale, Clarence Brown, Clint Eastwood, David O. Russell, Francis Ford Coppola, Goodby, Jennifer Lawrence, Joel and Ethan Coen, John Huston, Joseph L. Mankiewicz, Kings Row, Kitty Foyle, Lee Daniels, Letters from Iwo Jima, Martin Scorses, Million Dollar Baby, Mr. Chips, Mystic River, National Velvet, Paul Greengrass, Robert De Niro, Sam Wood, Silver Linings Playbook, Some Like i Hot, Spike Jonze, Steve McQueen, The African Queen, The Apartment, The Asphalt Jungle, The Figher, The Human Comedy, The Treasure of the Sierra Madre, The Yearling, Witness for the Prosecution, Woody Allen