Monday, October 21, 2013
From Text to Tube: Why Popular Lit Can Make for Great TV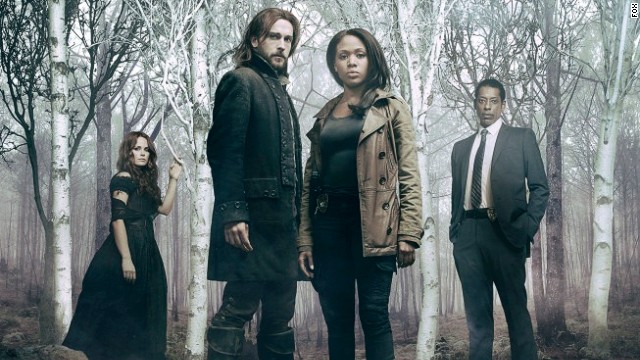 By Rachel Bennett
Contributor
* * *
When a book becomes a hit, topping bestseller lists and leaving store shelves vacant, one question always quickly follows: "When will it be turned into a movie?"
Audiences have seen this time and time again, with major examples being Gone with the Wind, To Kill a Mockingbird and The Lord of the Rings series, among many others.
Adapting literature to film can be a win-win situation, as it provides an original story with a built-in audience that will likely buy tickets come opening day. At the same time, not every book translates to box-office success, with some vehicles being better suited to a smaller medium — like TV.
Creating TV adaptations of beloved literature is not a new phenomenon, but it's one TV executives should increasingly consider in the face of a disappointing fall season.
Why? Because of all of the new offerings this season, a majority of the ones that stand out are based on popular literary works: Showtime's Masters of Sex, Netflix's Orange is the New Black, CBS's Under the Dome, Fox's Sleepy Hollow and NBC's Hannibal, to name some.
In the case of Sleepy Hollow, which is loosely based on the 1820 Washington Irving short story "The Legend of Sleepy Hollow," it's become one of the fall's most successful new series, earning positive reviews and solid ratings. Not only did Sleepy Hollow's premiere make it Fox's most successful series debut since 24 in 2001, but its recent Oct. 7 episode scored a respectable 2.7 in the 18-49 demo and 7.76 million viewers.
In a surprising move, Fox quickly ordered a second season of Sleepy Hollow — making it the first new show of the broadcast fall season to receive one.
Aside from Sleepy Hollow, there are two clear rookie broadcast hits: NBC's The Blacklist and ABC's Marvel's Agents of S.H.I.E.L.D.
Although The Blacklist is not an adaptation of a book, Marvel's Agents of S.H.I.E.L.D. is based on the organization S.H.I.E.L.D. (Strategic Homeland Intervention, Enforcement and Logistics Division) seen in Marvel Comics.
S.H.I.E.L.D's premiere numbers cemented it as TV's highest-rated new drama in almost four years, and ABC just picked it up for a full, 22-episode season.
Other networks that have taken advantage of popular pages are The CW and ABC Family, which have successfully cornered the market on young-adult literature.
For The CW, The Vampire Diaries, based on the series by L. J. Smith, and Gossip Girl, based on the books by Cecily von Ziegesar, helped the network make a name for itself after The WB and UPN merged in 2006.
When The Vampire Diaries bowed in 2009, it reaped the largest ratings of any premiere the network had seen, and it's still one of The CW's strongest performers — even spawning a spin-off with The Originals.
As for ABC Family, it found its footing with the hit Pretty Little Liars, which also led to an upcoming spin-off series, Ravenswood. Pretty Little Liars is an adaptation of the book series by Sara Shepard.
TV may become an even larger haven for YA lit following the recent failures of such big-screen adaptations of Stephenie Meyer's The Host, Cassandra Clare's The Mortal Instruments: City of Bones and Kami Garcia and Margaret Stohl's Beautiful Creatures. It's not that these series aren't popular; they're just not popular enough for the cineplex — not every novel can be The Hunger Games or Harry Potter.
Plus, teenagers don't exactly have the deepest pockets. TV would allow these books to reach their readers in another capacity without bombing at the box-office, and it would give struggling networks an instant bump in the ratings.
Although several of these shows are impressive, none of them currently hold a candle to the ultimate book-turned-TV series of recent years: AMC's The Walking Dead.
The zombie drama's Oct. 13 fourth season premiere bested every fall broadcast series showing so far, averaging 16.1 million viewers and earning an incredible 8.3 rating in the 18-49 demo. The Walking Dead even beat NBC's Sunday Night Football in the ratings.
Of course, not every book makes for good TV.
Just last season, ABC's GCB, NBC's The Firm and ABC's 666 Park Avenue, all of which began as books, premiered and were eventually canceled due to low ratings and mediocre to negative reviews.
Nevertheless, with the changing landscape of TV and the increasing number of series from which to choose, these vehicles may be better than ever for TV.
If a book is popular enough to be considered for a TV show, it will hopefully have a large enough following that a sizable audience would at least tune in for the pilot. And as series are fighting to get noticed in an increasingly crowded airspace — not only are there new shows with which to compete, but Netflix, ShowBox and other streaming services are making old shows available to watch for the first time — it's beneficial to have viewers' immediate attention because they know of the source material.
Even if audiences haven't read the book or books in question, if a piece of literature makes a large enough dent in popular culture, it would hopefully make people curious enough to see what a series could be like.
Apart from the ratings, this year's crop of lit-turned-TV shows are yielding one major result: They're pretty good, if not great.
When it's easy for networks to rely on creating another procedural because they know they work (don't get me wrong, I love CBS's The Good Wife, and such procedurals as Fox's Bones and CBS's Elementary are based on written works), turning to literature can produce new, exciting ideas for viewers to try.
I can't say enough about how much I enjoyed the first season of Orange is the New Black, an adaptation of Piper Kerman's novel of the same name, and Masters of Sex, based on Thomas Maier's biography Masters of Sex: The Life and Times of William Masters and Virginia Johnson, the Couple Who Taught America How to Love, is turning out to be entertaining as well.
Hannibal, based on Thomas Harris' Red Dragon, is also one of the best new series of the year — even though that's in large part due to creator Bryan Fuller's well-rounded, morbidly beautiful vision.
Despite the creative and financial success of these programs, how much should they follow their source material?
Most adaptations — whether it be TV, film, or literary — take some liberties and stray from their predecessors, and that's not a bad idea.
All literature has a final word, but it doesn't have to be the final word for a series. If a series relies too heavily on its benefactor, it will become lost once the written story ends.
HBO may soon be facing this problem with its hit drama Game of Thrones. George R.R. Martin's A Song of Ice and Fire series, of which Game of Thrones is an adaptation, will supposedly have seven installments. However, Martin has yet to finish the sixth, and the series is already on the third book, A Storm of Swords.
"I finally understand fans' fear — which I didn't a couple years ago: What if the storytelling catches up to the books?" says Michael Lombardo, an executive on the drama. "Let's all hope and pray that's not going to be a problem."
But it may become a problem, as it took Martin six years to write the fifth book, A Dance with Dragons, and it's only been two years since he finished that.
"So I need to write faster," Martin says. "The last two books took a really long time, so I'm hoping this one [the Winds of Winter] will go a little faster. But I make no promises. I found out long ago that when you look at the overall task, the cathedral you have to build, it looks so daunting that you just give up and sit down and play a video game."
However, HBO is giving itself some room to breathe. The third season covered the first half of the third book, and the upcoming fourth season will cover the second half. If HBO continues this trend, it could buy Martin some needed time, which would put fans at ease.
What any TV series, regardless of whether or not it's an adapted work, needs to be a success is a good showrunner — it's just that in the case of TV based on literature, there is the bonus of a blueprint.
There should be wiggle room when creating such a TV series, though, because even if readers want to be pleased, the show should be able to stand on its own and go past its source if need be. This strategy may not always produce the best results, but it could at times create an even better story.
The first season of Showtime's Dexter is largely based on Jeff Lindsay's novel Darkly Dreaming Dexter, but the following seasons stray from the books. Even though Dexter ended with a rough final few seasons, its first four are still fantastic TV, and the show most likely benefitted in the long run from carving its own path.
Luckily for execs concerned a text may run dry before a TV series does, there's a re-emerging trend that could solve this problem: miniseries.
Miniseries are generally inexpensive, and they have an expiration date before they begin. On that note, if a series isn't popular, it will end and won't leave too much of a black eye on the network's reputation.
Miniseries are making a huge comeback, and they are proving to be hits. Most notably, History's The Bible averaged 11.7 million viewers for its finale this summer.
But The Bible is not the first to prove that literature can make for a great miniseries. Roots, based on Alex Haley's novel of the same name, aired to great acclaim in 1977 on ABC, and it won nine Primetime Emmy awards. CBS's Lonesome Dove, based on Larry McMurtry's Pulitzer Prize-winning novel of the same name, is another classic miniseries, having broadcast in 1989 and won seven Primetime Emmy awards.
Whether or not TV continues to look to literature for inspiration, one thing is clear about this TV season: It's been disappointing, but the brightest spots have undoubtedly come from the page.
Let's just hope execs don't turn that page.
Tags: 666 Park Avenue, A Dance with Dragons, A Storm of Swords, ABC, Alex Haley, AMC, Beautiful Creatures, Bones, Bryan Fuller, Cassandra Clare, CBS, Cecily von Ziegesar, Darkly Dreaming Dexter, Elementary, Fox, Game of Thrones, GCB, George R.R. Martin, Gone with the Wind, Gossip Girl, Hannibal, Harry Potter, HBO, Jeff Lindsay, Kami Garcia, L. J. Smith, Larry McMurtry, Lonesome Dove, Lord of the Rings, Margaret Stohl, Marvel Comics, Marvel's Agents of S.H.I.E.L.D., Masters of Sex, Masters of Sex: The Life and Times of William Masters and Virginia Johnson, Michael Lombardo, NBC, Netflix, Orange is the New Black, Piper Kerman, Ravenswood, Red Dragon, Roots, Sara Shepard, Showtime, Sleepy Hollow, Stephenie Meyer, Sunday Night Football, The Blacklist, The CW, The Firm, The Good Wife, The Host, The Hunger Games, The Legend of Sleepy Hollow, The Mortal Instruments: City of Bones, The Originals, The TV, The Walking Dead, Thomas Harris, Thomas Maier, To Kill a Mockingbird, Under the Dome, Washington Irving, Winds of Winter