Wednesday, September 12, 2012
The Top 10 Actors Who Should Return To TV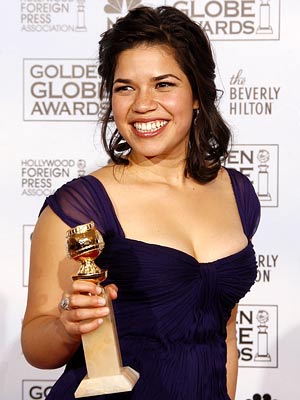 By Rachel Bennett
Television Editor & Columnist
***
Movies used to be gold standard for actors, with George Clooney, Tom Hanks and Leonardo DiCaprio leaving the small screen for the big to achieve great professional and financial success.
However, times are changing, and many actors who left TV to work in movies are coming back, including Eddie Murphy, Robin Williams and Michael J. Fox. Due to the addition of cable and subscription-based original programming, better roles are being created that will give actors a chance for the recognition, awards and job security that movies no longer  provide. Just look at Claire Danes, who returned to TV to star in Showtime's Homeland, for which she's nominated for an Emmy.
There are several actors who should return to TV, but not all of them will. Take a look at the top 10 TV stars who've left TV but should return:
10. America Ferrera
The 28-year-old Ferrera first made a splash on TV screens as Betty Suarez, the titular character of ABC's dramedy Ugly Betty. During her run on the series, which lasted from 2006 to 2010, Ferrera won an Emmy and a Golden Globe for her endearing and confident portrayal. Once Ugly Betty ended, it seemed as though Ferrera aimed for  a movie career, taking parts in the indie The Dry Land and the kids' animated film How to Train Your Dragon. She can also be seen in the upcoming Jake Gyllenhaal drama End of Watch. But  she hasn't been in much else aside from a fantastic three-episode guest spot on CBS's The Good Wife and as the lead of the web series Christine. Ferrera has so much talent that I'd hate to keep seeing her in only supporting parts. She deserves another challenging lead TV role that will allow her to show her range, and though her film career could still take off, a return to TV may be the best career move.
9. Jim Carrey
Before he went on to have a successful film career, starring in such films as Ace Ventura: Pet Detective and Bruce Almighty, Carrey was the lead of NBC's 1984 comedy series The Duck Factory. Following the series's cancellation, he went on to become a cast member of Fox's In Living Color from 1990 to 1994. Since In Living Color ended, Carrey has only returned to TV in guest spots on NBC's The Office and 30 Rock. It's time he returned to say for a while. Despite wonderful performances in such movies as 1998's The Truman Show and 2004's Eternal Sunshine of the Spotless Mind, Carrey is recently best known for starring in a string of mediocre comedies, including 2005's Fun with Dick and Jane, 2008's Yes Man and 2011's Mr. Popper's Penguins. He's got a comedy with Steve Carell coming up in addition to Kick-Ass 2, but until we see how those pan out, I could imagine Carrey on a network like FX. There, he could join Charlie Sheen and Louis C.K. as acts who have the freedom to practice a certain type of comedy that may not be as suited for broadcast networks.
8. Alexis Bledel
As half of the mother-daughter duo in The CW's Gilmore Girls, Bledel got her big Hollywood break. Before then, she had had only one role (uncredited, no less) in 1998's Rushmore. For seven years, from 2000 to 2007, Bledel received a steady paycheck and the opportunity to star in such films as 2002's Tuck Everlasting, 2005's Sin City and 2005's The Sisterhood of the Traveling Pants. Following the series's conclusion, Bledel's star seemed to be rising when she landed the lead in the 2009 romantic comedy Post Grad. But the film earned terrible reviews and managed to make only a little over $6 million worldwide. Since then, Bledel has starred in little-seen indie films, had a supporting role in 2010's The Conspirator (directed by Robert Redford) and guest-starred in NBC's ER and AMC's Mad Men. Bledel should return to her roots and try to find a vehicle on The CW — similar to Rachel Bilson's Hart of Dixie or Mamie Gummer's upcoming Emily Owens, M.D. — where she can lead a series that appeals to younger women and is as light-hearted as Gilmore Girls.
7. Sarah Jessica Parker
After starring as  Sex and the City's Carrie Bradshaw for six years and two movies, it's likely that Parker will always be known for that character — especially given that her movie career has flatlined since the HBO comedy ended in 2004. Parker had a steady career before her Sex days, including stints on numerous TV shows (most notably CBS's Square Pegs), but her work has been less impressive over the past few years. Despite the box office success of the first Sex and the City film in 2008, Sex and the City 2 pulled in a considerably smaller amount of money in 2010 (not to mention, the reviews were not good). The following years were not kinder: 2011's I Don't Know How She Does It and New Year's Eve received horrible reviews and failed to cover their respective budgets with their domestic grosses — meaning that Parker was no longer getting good work or a box office draw. However, there's hope: She will be guest-starring on two upcoming episodes of Fox's Glee, which could once again make her a TV commodity. CBS would be a great fit, as she could try a serious drama in the same vein as Julianna Margulies' The Good Wife.
6. Katherine Heigl
It doesn't seem like long ago that Heigl was poised for stardom. After starring in The WB's Roswell from 1999 to 2002 and numerous TV movies, Heigl landed the part of Dr. Izzie Stevens on ABC"s medical drama Grey's Anatomy. What began as a mid-season replacement soon turned into a hit, leading to Heigl's 2007 Emmy win for Outstanding Supporting Actress in a Drama Series. That same year, Heigl starred in the critically acclaimed comedy Knocked Up, cementing her status as a TV and film star. But oh, how things have changed. In 2010, Heigl left Grey's Anatomy to work on her film career. The parting was not on the best of terms, as Heigl had criticized the writing on the series and publicly complained about the long work hours before her departure. Following her leave, Heigl starred in several critical and domestic box office bombs: 2010's Killers, 2011's New Year's Eve and this year's One for the Money. Heigl has The Big Wedding, co-starring Robert De Niro and Robin Williams, coming up, but she'd be wise to return to TV before her goodwill in Hollywood and likability with audiences completely disappear — that is, if they already haven't.
5. Will Smith
Yes, Smith is a huge box office draw (some say the last in Hollywood), but this is more about the work he's getting than how much money he attracts. Smith got his foot in the door after starring on NBC's The Fresh Prince of Bel-Air from 1990 to 1996, during and after which he starred in many popular films — including 1995's Bad Boys (and its sequel), 1996's Independence Day and 1997's Men in Black (and its two sequels). Smith has also been nominated for two Best Actor Academy Awards, for 2002's Ali and 2007's The Pursuit of Happyness. So why would he want to get out of movies? Because of his upcoming projects. Of Smith's five films in development, three are sequels (Hancock 2, Bad Boys 3 and I, Robot 2). Once these franchises lose steam, what will Smith have left? He may be given more action roles — even though he will be pushing 50 once I, Robot 2 comes out in 2015 — but I'd like to see him push himself in a more challenging role. A return to TV, possibly something on Showtime or Starz (where Kelsey Grammer has been given a meaty role on the drama Boss), would be an interesting career move.
4. John Travolta
As with Smith, Travolta is an outright movie star. With a notable film career that spans more than three decades, including roles in 1977's Saturday Night Fever, 1994's Pulp Fiction and 1998's The Thin Red Line, one could say Travolta wouldn't want to return to TV after his four-year role on  ABC's Welcome Back, Kotter. And in some ways people would be right. However, looking back on Travolta's work over the past 10 years, his most well-received film was 2007's Hairspray, followed by the 2008 animated movie Bolt. Though these are good films, they won't be considered the best of Travolta's career in the long-run. He has attempted to take riskier parts, such as in 2009's The Taking of Pelham 1 2 3 and this summer's Savages, but the mixed reviews for both will mostly likely prevent them from standing out in the actor's filmography. Instead, Travolta seems to be best known these days for lawsuits and his belief in Scientology. Again, as with Smith, Travolta may want to follow the footsteps of Kelsey Grammer and go to Starz, or head to HBO after Steve Buscemi's success on Boardwalk Empire.
3. Jerry Seinfeld
Similarly to Sarah Jessica Parker and her role on Sex and the City, it may be hard for Seinfeld to return to scripted TV and not be associated with NBC's Seinfeld. After co-creating and starring on the comedy for eight years, the comedian stayed away from scripted TV largely until making guest appearances on HBO's Curb Your Enthusiasm. Even then, his role was in reference to his iconic 90s TV persona. Seinfeld did return in a regular capacity as a co-creator and panelist on NBC's reality series The Marriage Ref, which began in 2010 and ended in 2011. As for film, Seinfeld is mostly known for co-writing and voicing a character in the 2007 kids' film Bee Movie, which received mixed reviews. It would be great to see Seinfeld return to TV, possibly to NBC to help the network rebound in the ratings. If the network could reasonably give Seinfeld free range, similar to how FX has given Louis C.K. liberty in the creation of Louie, that would be even better. NBC needs to take more risks, and betting on Seinfeld could be a good choice — if only he'd say yes.
2. Hilary Swank
Oscar winner Swank spent a good portion of her early career starring in TV series, including ABC's Camp Wilder from 1992 to 1993 and Fox's Beverly Hills, 90210 from 1997 to 1998. But Swank became a movie star when she landed her Academy Award-winning part in 1999's Boys Don't Cry, which led to more roles — including 2004's Million Dollar Baby, for which she won her second Academy Award. Since then, however, it seems Swank has experienced more misses than hits (apart from her praised part in 2010's Conviction). From 2007's The Reaping to 2011's New Year's Eve (sensing a pattern among the women on this list?), Swank has starred in largely forgettable films. Swank did return to TV in 2004 as a part of HBO's TV movie Iron Jawed Angels, which gave her a Golden Globe nomination, and TV is where she should stay. Swank is a great actress, and as Showtime is experiencing some shakeups with its female-led programming (Weeds and The Big C are ending), she'd be a great addition in a series alongside Homeland.
1. Adam Sandler
Apart from a guest spot on CBS's The King of Queens in 2007, Sandler hasn't appeared on TV since the five years he spent on NBC's Saturday Night Live from 1990 to 1995. Instead, he's been starring in, writing and producing numerous films, including 1999's Big Daddy, 2008's You Don't Mess with the Zohan and 2011's Jack and Jill. These films have more in common than that: They've been box office successes but critical flops. This changed a little this year, though, when Sandler's summer comedy That's My Boy, which he starred in and produced, gave the actor the worst opening weekend for one of his films since 2007. Believe it or not, Sandler is a good actor, with such directors as Quentin Tarantino, Martin Scorsese and Michael Mann wanting to work with him (He's already worked with acclaimed directors Judd Apatow and Paul Thomas Anderson). Sandler may be more interested in making money than taking on complex parts, but TV would pay him well. A network like HBO would give him an ideal showplace to exhibit his comedic and dramatic acting chops, but if he wanted to stay more mainstream, Fox could also be a good place to call home.
Tags: 30 Rock, 90210, Ace Ventura: Pet Detective, Adam Sandler, Alexis Bledel, Ali, AMC, America Ferrera, Bad Boys, Bee Movie, Beverly Hills, Boardwalk Empire, Boss, Bruce Almighty, Camp Wilder, CBS, Charlie Sheen, Claire Danes, Conviction, Curb Your Enthusiasm, Emily Owens, Emmy, End of Watch, ER, Eternal Sunshine of the Spotless Mind, Fox, Fun with Dick and Jane, George Clooney, Gilmore Girls, Grey's Anatomy, Hart of Dixie, HBO, Hilary Swank, Homeland, I Don't Know How She Does It, In Living Color, Independence Day, Iron Jawed Angels, Jack and Jill, Jake Gyllenhaal, Jerry Seinfeld, John Travolta, Judd Apatow, Julianna Margulies, Katherine Heigl, Kelsey Grammer, Kick-Ass 2, Killers, Knocked Up, Kotter, Leonardo DiCaprio, Louie, Louis C.K., M.D., Mad Men, Mamie Gummer, Martin Scorsese, Michael Mann, Million Dollar Baby, Mr. Popper's Penguins, NBC, One for the Money, Paul Thomas Anderson, Post Grad, Quentin Tarantino, Rachel Bilson, Robert De Niro, Robert Redford, Robin Williams, Roswell, Sarah Jessica Parker, Saturday Night Fever, Saturday Night Live, Savages, Seinfeld, Showtime, Sin City, Starz, Steve Buscemi, Steve Carell, That's My Boy, The Big Wedding, The Conspirator, The CW, The Dry Land, The Duck Factory, The Fresh Prince of Bel-Air, The King of Queens, The Marriage Ref, The Office, The Pursuit of Happyness, The Sisterhood of the Traveling Pants, The Taking of Pelham 1 2 3, The Truman Show, THe WB, Tom Hanks, Tuck Everlasting, Ugly Betty, Welcome Back, Will Smith, Yes Man, You Don't Mess with the Zohan