Friday, February 1, 2013
TV Rewind: 'How I Met Your Mother' End Set, 'Girls' Renewed And Extended, 'Girl Meets World' Star Introduced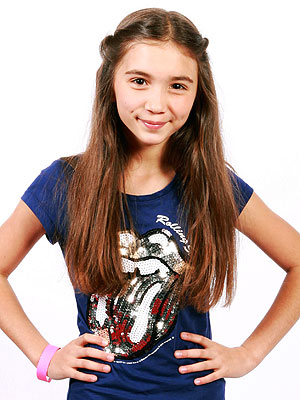 By Rachel Bennett
Television Editor & Columnist
Every Friday, Rachel recaps the week's major TV-related news, announcements and gossip!
* * *
TOP STORIES
• CBS's How I Met Your Mother was renewed for a ninth and final season. Maybe we will finally meet the mother?
• The rumors have been put to rest: HBO's Girls is coming back for a third season and will feature 12 episodes instead of 10.
• Meet the girl at the center of Disney Channel's Girl Meets World pilot: Following a lengthy search, 11-year-old Rowan Blanchard will play Riley Matthews, the daughter of Cory (Ben Savage) and Topanga (Danielle Fishel), in the spinoff of ABC's Boy Meets World.  Sabrina Carpenter has been tapped as Maya Fox, Riley's best friend.
• And your new Saturday Night Live host is … Christoph Waltz! The Django Unchained star and Oscar nominee will host the Feb. 16 episode of the NBC sketch show.
• Ben & Jerry's 30 Rock (NBC) ice cream is here, and the flavor is … Liz Lemon Greek Frozen Yogurt!
SHOW BIZ
•  An Entourage (HBO) movie will soon be coming to a theater near you.
•  Aside from Girls, showrunners and executive producers Lena Dunham and Jenni Konner are also working on another comedy for HBO. The project is based on All Dressed Up and Nowhere to Go, the memoir of Bergdorf Goodman's personal-shopper Betty Halbreich.
• Showtime has renewed Shameless, Californication and House of Lies. BBC America also opted to give new series Ripper Street another season.
• FX's The Americans got off to a promising start Wednesday. The Cold War drama attracted 3.2 million viewers and a 1.2 adults 18-49 rating. FX president John Landgraf says he is "very happy" with the figures.
• Also on FX, Brand X with Russell Brand is returning for its second season Feb. 7. However, the show will look a little different: Instead of airing prerecorded 30 minute episodes, installments will be live and an hour long.
• Roseanne Barr is still looking for her TV comeback, and she may soon get it: She's signed a deal with Universal Television to develop, produce and star in a comedy for NBC.
• Starz is developing a Black Swan-esque drama, which will be a "gritty" series that "follows a ballerina with a dark past who joins a fancy company in New York." AMC's Breaking Bad co-executive producer Moira Walley-Beckett is one of the talented names behind the project.
• ABC's Katie Couric talkshow Katie has been given a second season.
COMINGS AND GOINGS
• Awesome person Felicia Day is returning to The CW's Supernatural later this season.
• Allison Janney is joining Anna Faris in Chuck Lorre's CBS pilot Mom. Janney will, naturally, play the mom of Faris' character.
• It's about time! FX's American Horror Story: Asylum star Lily Rabe will be a part of the drama's third season.
•  Eric Mabius, of ABC's Ugly Betty, is heading to CBS's Blue Bloods as a "a likable and sexy multi-millionaire philanthropist … who may not be as perfect as he appears." His episode is slated to air in February.
• Despite this picture, Jane Kaczmarek will not be reuniting with her Malcolm in the Middle (Fox) costar Bryan Cranston in the final episodes of Breaking Bad.
• Even though he was killed off in season one, Jamie Dornan (aka the Sheriff/Huntsman) is magically coming back to ABC's Once Upon a Time.
•  Kate Micucci (Fox's Raising Hope) may be romancing Raj (Kunal Nayyar) on CBS's The Big Bang Theory.
RUMOR MILL
• Even though she lip-synced at President Barack Obama's second inauguration, superstar Beyoncé says she "will absolutely be singing live" during this Sunday's Super Bowl XLVII Halftime Show.
•  With every end comes a beginning. 30 Rock's Tracy Morgan will be a dad for a fourth time. Congrats!
• "He is still most often drunk," says The Americans star Keri Russell about costar and on-screen hubby Matthew Rhys. Also, Keri Russell is the best.
SNEAK PEEK
• It's senior year at Greendale! Here's another look at season four of NBC's Community, which is less than a week away!
• Expect more drama when NBC's Smash returns Feb. 5.
• Rayna (Connie Britton) and Deacon (Charles Esten). ABC's Nashville. Hotel and elevator. Why haven't you clicked yet?!
• Jack (Nick Weschler) and Amanda (Margarita Levieva) are getting hitched on ABC's Revenge. Don't these people know you're not supposed to wear white to a wedding?
• 'A' is still up to no good on ABC Family's Pretty Little Liars.
FRIDAY FUN
• Goodbye, Liz Lemon (Tina Fey). Thanks for the memories.
Tags: 30 Rock, ABC, ABC Family, All Dressed Up and Nowhere to Go, Allison Janney, AMC, American Horror Story: Asylum, Anna Faris, Barack Obama, BBC America, Ben & Jerry's, Ben Savage, Betty Halbreich, Beyonce, Black Swan, Blue Bloods, Boy Meets World, Brand X with Russell Brand, Breaking Bad, Bryan Cranston, Californication, CBS, Charles Esten, Christoph Waltz, Chuck Lorre, Community, Connie Britton, Danielle Fishel, Disney Channel, Django Unchained, Entourage, Eric Mabius, Felicia Day, Fox, FX, Girl Meets World, Girls, HBO, House of Lies, How I Met Your Mother, Jamie Dornan, Jane Kaczmarek, John Landgraf, Kate Micucci, Katie, Katie Couric, Keri Russell, Kunal Nayyar, Lena Dunham, Lily Rabe, Malcolm in the Middle, Margarita Levieva, Matthew Rhys, Moira Walley-Beckett, Mom, NBC, Nick Weschler, Once Upon a Time, Pretty Little Liars, Raising Hope, Revenge, Ripper Street, Roseanne Barr, Rowan Blanchard, Russell Brand, Sabrina Carpenter, Shameless, Showtime, Smash, Starz, Super Bowl XLVII, Supernatural, The Americans, The Big Bang Theory, The CW, Tina Fey, Tracy Morgan, Ugly Betty, Universal Television